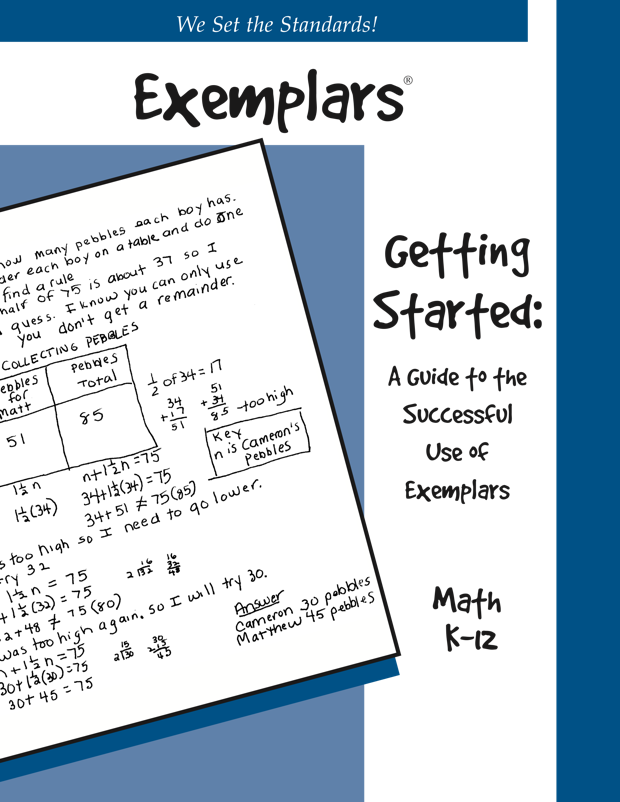 Tips for Getting Started With Exemplars Classic Math
Exemplars makes it possible for schools, districts and teachers to get started with excellent performance-based assessment and instruction.
To help you use our material, we would like to share some suggestions from experienced Exemplars users. The sections below offer ideas and tips to help teachers, schools, and districts get started on the right foot. These exercises can be used individually as a model or in staff development sessions.
You can also download a complete hardcopy version of our step-by-step tutorial.
Select a Task of the Month
In one California school, teachers all agree to do the same Exemplars task with their students. As a K–5 school, they select one task and differentiate it for different grade levels*. Teachers report that this generates meaningful conversations in the teachers' room and at faculty meetings. They discuss student response to the task, the strategies used, developmental differences, varying levels of performance and successful strategies for helping students understand and improve their performance.
*This strategy was used before Exemplars math material was formally differentiated at three levels.
---
Select Several Tasks to do in Common
In some schools and districts, the math or science committee selects several tasks that might be done across the district (or within the school) at each developmental level (K–2, 3–5, 6–8). Teachers then get together to assess the work and discuss their students' performance. The difference between this approach and the previous one is that here, students at different developmental levels might be working on different problems in relation to a given standard.
---
Correlate Exemplars Tasks With Your Textbooks, Performance Standards, Frameworks and/or Curriculum
Teachers use Exemplars to help their students become better problem solvers, but they generally do this within the context of the content area they are working with. One of the reasons teachers like the "Best of Exemplars" products has to do with the way tasks can be searched for by curriculum area. This makes it easy for teachers to find tasks that connect with particular units as well as state, national and Common Core standards.
Note: Exemplars is also aligned to several math texts and literature links.
---
Provide Each Teacher With a Copy of Exemplars Getting Started Guide for Math and the Science Toolkit.
Anyone can download Exemplars free Getting Started Guide for Math and the Science Toolkit. (Please allow several minutes for download on slower connections).
The Exemplars Math Guide makes it easier for individual teachers to get started. One idea is to use the Guide as the focus of a study group for educators who use Exemplars. They can score and annotate student work together, discuss at what level students are performing and why, and determine the next steps for improvement.
The Exemplars Science Toolkit provides teachers with support for using Exemplars Science Inquiry Tasks. Teachers will get ideas on how to implement Science Portfolios, Peer- and Self-Assessment, and Cooperative Inquiry in their own classrooms. Other helpful hints include teaching students to conduct fair tests and using the Science Exemplars Rubric. The Teacher Toolkit is designed to help teachers use performance assessment tasks.
This is the very heart of what Exemplars is all about. Faculties can assess where their students are and how they might be helped using the information gained from working with Exemplars. This is how you will get the most out of our products.
---
Be Sure Your Teachers are Aware That Exemplars Tasks are Available and Readily Accessible for use in Their Classrooms
At faculty and principal meetings, make sure everyone knows about Exemplars products and how they might be best used.
Many schools put Exemplars digital software on their school's password protected network.
In the Jefferson County (Colorado) School District, Exemplars material is placed on their web site. Teachers can access the material with a passcode, ensuring that only site-licensed schools are using the tasks.
---
Support Your Staff With Professional Development
One of the most powerful methods of using Exemplars is as a vehicle for professional development. As one California administrator said, "Exemplars helps bridge the gap between standards on a page and students and teachers in the classroom."
We have developed a variety of professional development workshops, that may be customized to meet your school's specific needs. We also offer Classroom Modeling for Math and Science. These sessions take our workshops to the next level, by allowing teachers to observe Exemplars tasks being exercised by their students in the classroom, with the instruction of an Exemplars consultant.
In your own workshops, assess student work together and think about the results in terms of the implications for individual students as well as instruction and learning. Share strategies for making the implementation of performance-based instruction and assessment manageable in the classroom.
---
Select and Train "Mentor Teachers"
Many districts, (like Tacoma, Washington) have used the mentor teacher approach. These districts select one teacher (or a team of teachers) from each school and train them to assist their colleagues in getting started using Exemplars. Mentor teachers can assist in scoring student work, using results to improve performance and managing the performance-based classroom.
Exemplars also offers professional development opportunities for mentor teachers. The goal of these workshops is to better understand and support the performance-based work teachers are implementing.
---
Exemplars Scoring Notes
Teachers love using these! These notes were designed to make assessing student work much more manageable. Please feel free to make as many copies as you need.