Better Learning Outcomes With Exemplars
Your students' proficiency in math could increase by more than 36%!


Percent of Exemplars Students Meeting or Exceeding NYC Proficiency in 2018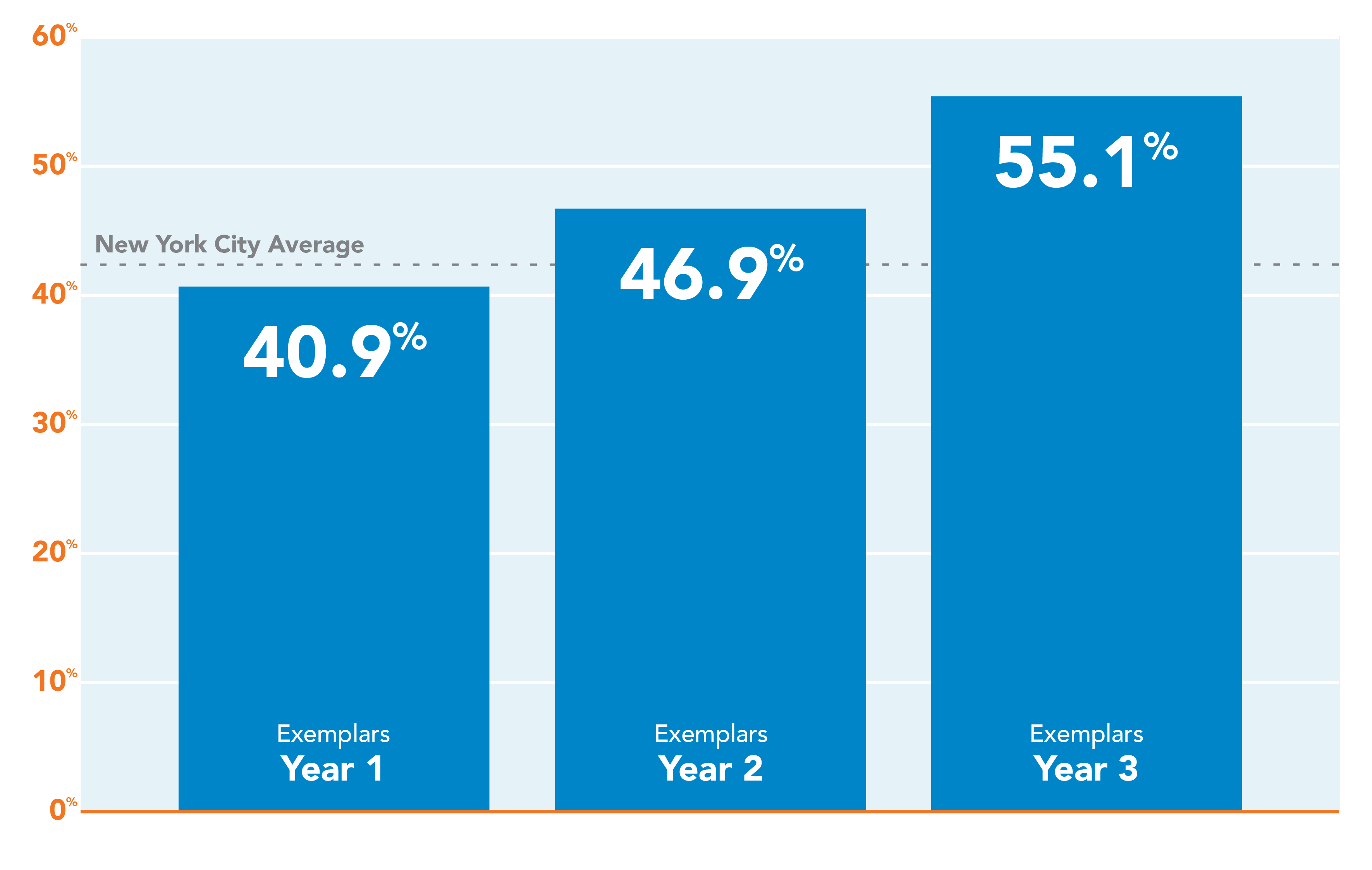 What Educators Are Saying
We have a lot of social/emotional needs in my school so I love that Exemplars helps students learn to work together, share ideas, critique each other in a meaningful way, while also developing some pretty awesome critical thinking and reasoning skills ... I feel like I could go on and on about how much I love using Exemplars.

Tess McCafferty, Teacher, OH

If I think about all the strategies teachers have used to try to improve student achievement in math, the Exemplars program was the most powerful.

Diane Ullman, Assistant Superintendent, CT

Your work is fantastic! We are looking for a way to monitor the growth of a student as a scientist from grade to grade. Your rubrics will help us to begin this important work.

P. Bator, Elementary Science Curriculum Specialist, MA

With the increasing rigorous demand of high-stakes testing, Exemplars is a "must have" component to any mathematics program. I have been in education for over 18 years and have seen programs come and go. Exemplars is one of the few initiatives that has proved effective time and time again!

T. Krejcarek, Asst. Principal, VA

There is more than enough in each activity for a teacher, even one without a great deal of science background, to plan high-quality, inquiry-based lessons and assess student performance with confidence ... This program will provide an invaluable service to schools ...

C. Seidman, Science Teacher/NSTA Review Panel Member

Exemplars tasks have proven to be engaging for our Title I students. Use of the student-scoring rubric helps students understand exactly what is expected of them as they solve problems. This knowledge carries over to other mathematics tasks.

Deidre Greer, Ph D. , Asst. Professor & Program Coordinator, Early Childhood Education

This is an excellent resource! Thanks for making it available. Exemplars are a wonderful tool for our highly capable math students. They encourage them to show their work, explain their thinking, and label their answers.

C. Hyndman, Enrichment Facilitator, ID

I think that these tasks provide higher-level thinking skills and require students to take a look at the reasoning behind their answers.

M. Shepherd, Elementary School Teacher, MI

I am a special education teacher, and I have been using the math Exemplars with my students. They enjoy doing them and have actually asked to do them. I have noticed that with each problem we solve more and more students are trying to stretch their thinking so they can become 'Experts'.

J. Reardon, Special Education Teacher

The Exemplars program is designed to assess students' problem-solving and mathematical-communication skills. It also supports higher-level thinking and extension of mathematical reasoning.

S. Dement, Teacher, TX

I have been using the math Exemplars K-8 for the past 6 years. I am a former NYC Math Coach, and I have seen Exemplars improve my students Mathematics skills and thinking

D. Jones, Assistant Principal, NY

Teaching STEM proved to be very time consuming last year, and I love the [Exemplars] task on breathing because the student gets to investigate the real-life situation instead of just watching!!

V. Barker, Science Teacher, TN
Edutopia highlights Exemplars as a "go-to" for promoting productive math struggle.
Why are the students so happy? I really wanted to know. So, I did what anyone would do: I went straight to the source and asked the kiddos. Here's what I learned.
Math Exemplars work to develop the whole child in mathematics and social-emotional learning.