Math Resources to Ramp Up Learning Recovery
Despite the valiant efforts of teachers, parents, administrators, and students, COVID-19 has significantly disrupted education over the last two years.
The pandemic has negatively impacted math and reading achievements across the board, most notably widening existing achievement gaps between students with different socioeconomic backgrounds. Rich and engaging performance tasks can help address these damaging disparities. Now more than ever, we need to help students get back on track.
Here's how you can do that—and how Exemplars can help.
First, Look to the Science
The Exemplars Math Library is research-based, classroom-tested, and successfully proven to be an effective resource for improving student proficiency in mathematics. Schools that used Exemplars consistently were able to increase their scores by 35% on average, compared to their pre-Exemplars scores.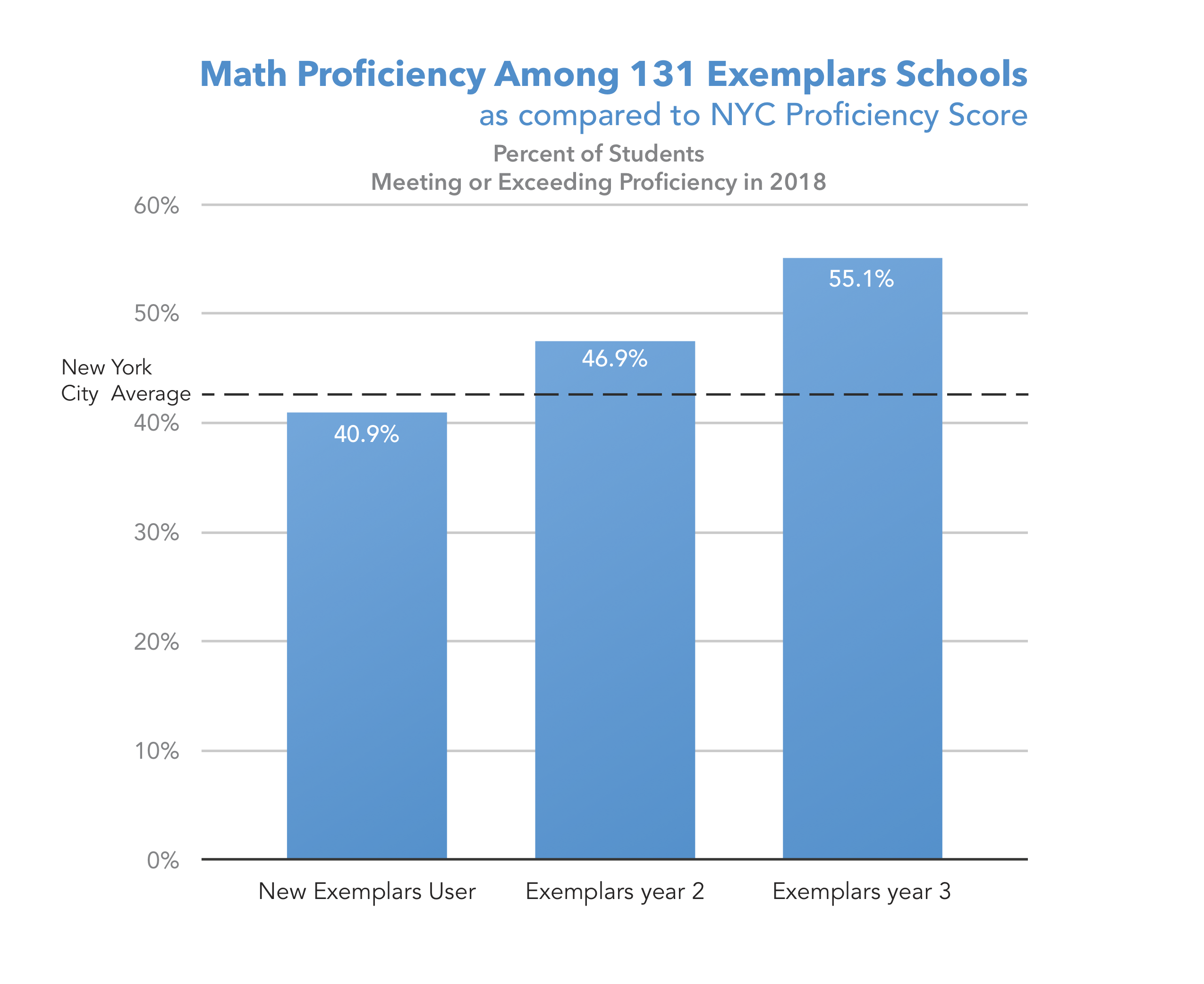 These schools achieved these gains through regular use of the Exemplars Math Library: hundreds of complex and engaging performance tasks, aligned to the standards, and a robust set of tools for instruction and assessment.
This is compelling evidence that Exemplars can help. And you can implement it without taking teachers past their breaking point.
Then, Choose an Approach That Won't Burn Your Staff Out
It takes a lot of work to curate high-quality, rigorous materials for instruction and assessment. Teachers regularly spend time outside of contract hours to create resources, rubrics, planning materials and examples of student work to guide students toward proficiency. Demands on teachers' time have reached an all-time high.
By supplying a Library of classroom-tested, standards-based performance tasks, Exemplars "ready-to-go" materials can alleviate some of the strain—so that teachers can focus on the personal interventions many students need instead.
Next, Make the Most of Funding That Supports Learning Recovery
The American Rescue Plan (ARP) Act of 2021 allocated $122 billion nationwide to help schools safely reopen and address the impacts of the coronavirus on the nation's students. In addition to providing resources to help alleviate educator fatigue, Exemplars math materials offer effective resources for districts (and schools) to address learning loss through the implementation of evidence-based interventions.
[LEARN MORE ABOUT ARP FUNDS FOR YOUR SCHOOL]
Then Bring It All Together to Help Students Get Back on Track
According to teachers at Wilton Public Schools in Connecticut:
Ten weeks after using Exemplars, teachers saw significant improvement in student learning outcomes, filling the learning loss gaps caused by a change in instructional methods during remote learning.
Every school—and every student—deserves success like this. Read on to discover effective ways to support learning recovery, and how the Exemplars Math Library puts them into action.
Learn more about accessing ESSER funds for Exemplars, or get in touch to discuss implementing Exemplars in your school or district.