Introducing: Science Talk!
Images and Simple Questions to Ignite Your Students' Curiosity
Written by: Tracy Lavallee, Exemplars Science Consultant
How can we get our students genuinely excited about science? It's a question that so many of us are looking for the answer to. So we've started something fun to help: Science Talk!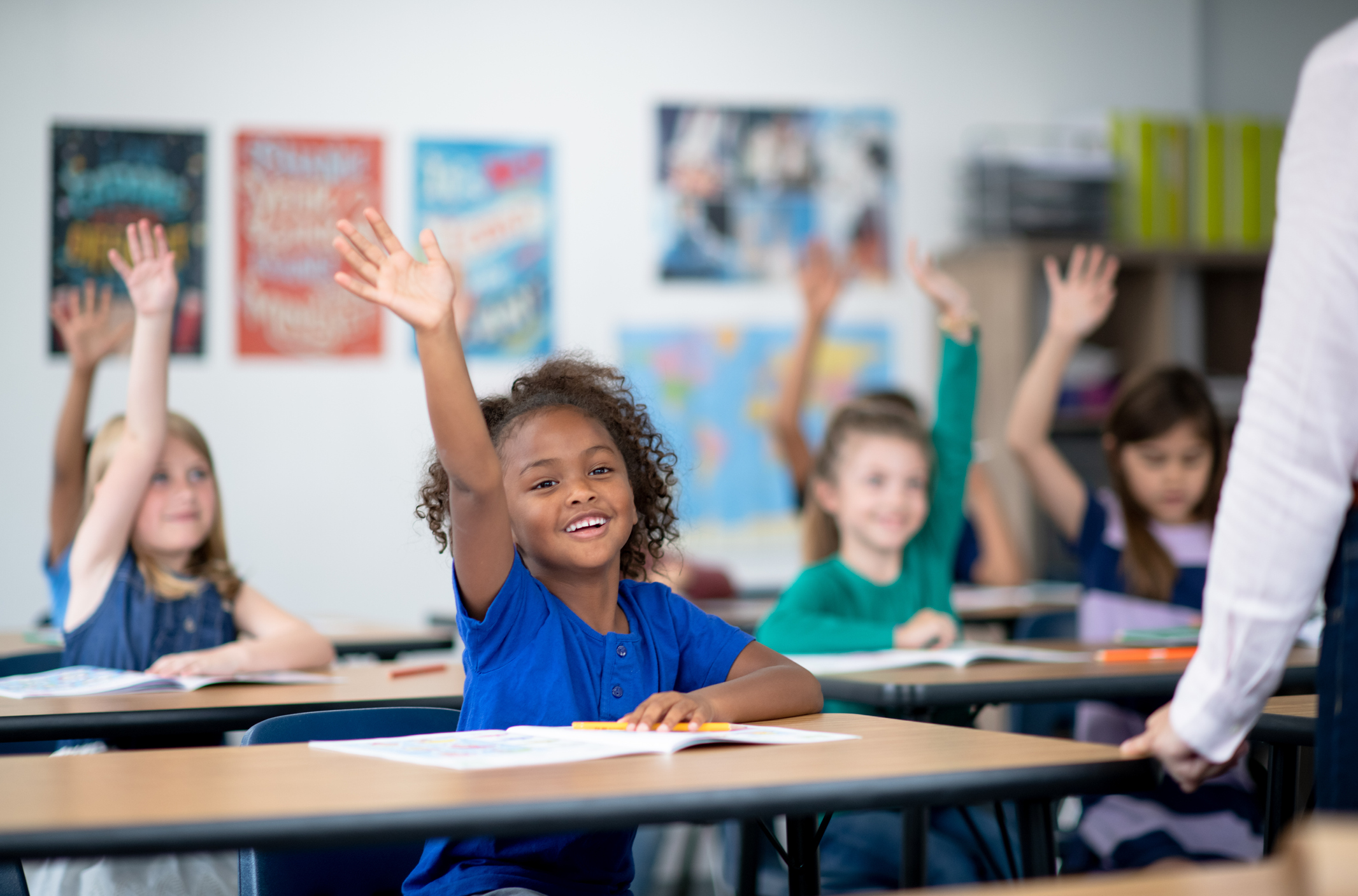 But before we share more about this project, let's talk about why discussions around scientific concepts are so important.
The Importance of Talk: Science Talk
We all know how important a basic understanding of science is. It's all around us, in every aspect of our lives. It's in the weather, the energy we use, the food we eat and the medications we take. It's everywhere from our cell phones to the shoes we wear on our feet. Yet in our schools, it seems there's less and less time for science—let alone time for real science talk.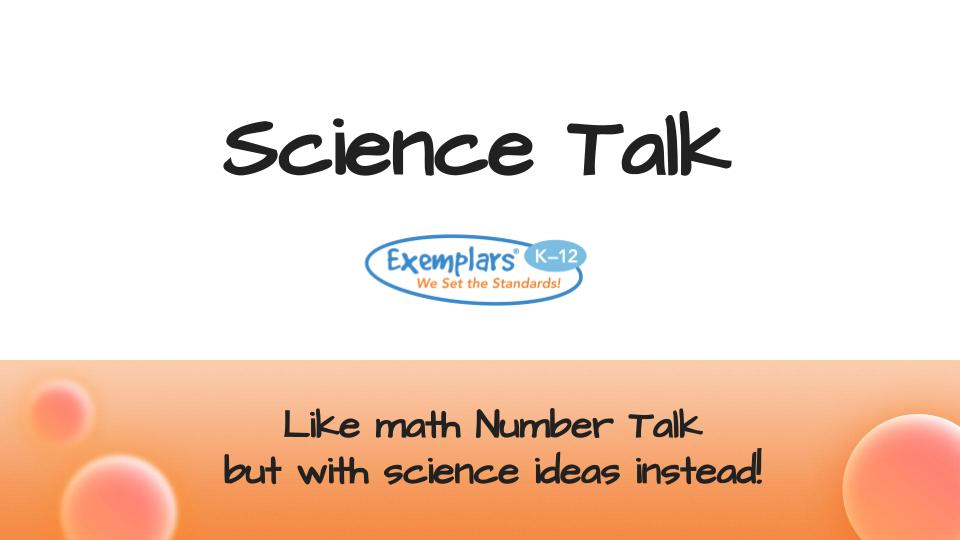 Our students would benefit from us giving science some time each day, starting right from the beginning in kindergarten. Encouraging students to discuss and engage with scientific concepts does so much more than just build a deeper understanding of science; it gives us a way to incorporate many real-life 21st Century skills into the classroom, like working together effectively and respectfully.
It also helps teachers build strong and effective classroom routines around listening and speaking during group discussions—and these skills can be practiced and reinforced in all subject areas where group work and discussions are involved. Students learn how to take turns and respectfully listen and respond to one another. This in turn builds students' confidence in their abilities to collaborate and communicate successfully with others. It can also foster a sense of community and belonging that helps nurture social relationships and social communication skills.
What's more, talking about science helps our students see the world with new eyes, offers a variety of different perspectives, and leads to unique questions and ideas. It can revitalize their sense of wonder and curiosity, which will lead to a stronger desire for lifelong learning. And as educators, isn't that what we want for our students?
How to Use Science Talk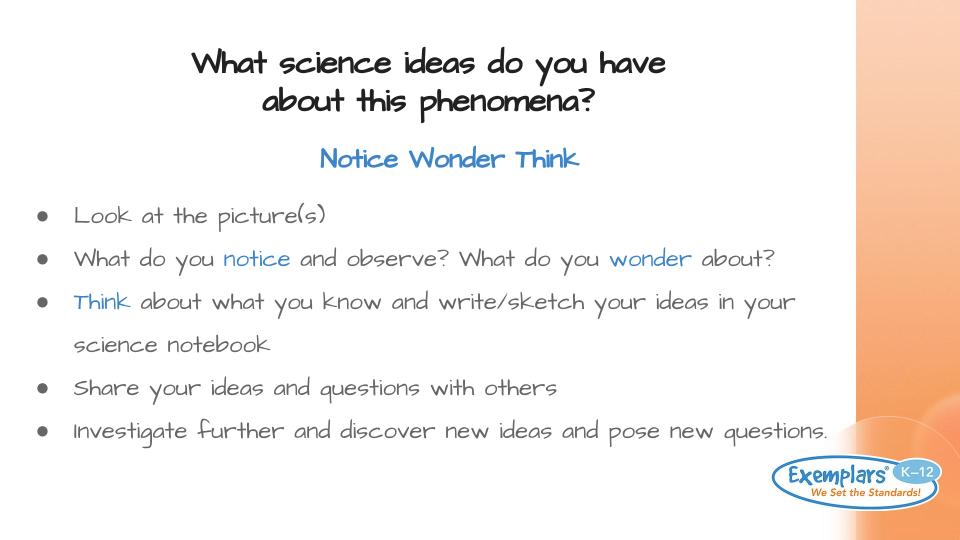 Science Talk uses images and simple questions to ignite your students' curiosity.
There is no right or wrong way to use Science Talk with your students. While some images and questions might seem higher level, younger students may surprise you with their ideas and insights. You can pick and choose the ones you want to use—or use them all! The photographs cover all areas of science: physical, earth/space, life, and STEM. The idea is just to get kids engaged with and excited about scientific phenomena.
Notice, Wonder, Think.
We use a popular process called "Notice, Wonder, Think." This framework can help our students organize their thinking, as well as communicate it.
Notice. Begin by asking, "What do you notice about this photograph?" Encourage students to share many details and observations.
Wonder. Welcome any and all questions from your students. Asking questions is a skill—one that necessary in all aspects of life and learning. And, no question is silly.
Think. Encourage them to think. There are no right or wrong answers here. It's a time to explore all ideas and possibilities. Students can use a science notebook to write down their thoughts.
You can decide how deep to go with the ideas in the photographs. They can lend themselves to jumping-off points at the start of a unit, or at the end. This can be a daily activity and doesn't have to take a lot of time. It's designed to be used in a way that works for each teacher.
We're Here to Help
Science Talk was created to fill a need. We know that educators have a lot on their plates, and we sincerely want to help. If you can't find the time right now to tackle science in your classroom, you might be able to carve out a bit of time just to talk about it. It's a great place to start!
If teachers and students wish to dive deeper, Exemplars Science Library has many inquiry-based science tasks to help them investigate further. Free samples may also be found on our website.
We'd love your feedback on Science Talk. What are your initial thoughts? Below, you can find a preview of some of our current slides. The full version is available to educators that subscribe to the Exemplars Science Library.