Students are encouraged to collaborate with their peers while working to solve Exemplars math tasks. The end result: rich discussions about their solution strategies.

The engaging, real-world context of our tasks allows students to connect and apply math concepts to life outside of school – giving them an essential 21st-century skillset: communication, collaboration, critical thinking, and creativity.

Standards-based rubrics support the Mathematical Practices and provide teachers with guidelines for giving meaningful feedback. Student rubrics foster self- and peer-assessment skills.

With Exemplars, students move beyond simply "getting the answer." These learners create rich mathematical solutions that explain how they did it. Thanks to our rubric criteria, students learn to communicate their thinking and reasoning, create representations to show conceptual understanding, use formal math language, and make meaningful math connections.

Exemplars is delivered online for teachers so they may easily search for and print-rich performance tasks for students, rubrics, and lesson planning resources by standard. Material may be used for instruction, exploration, and assessment.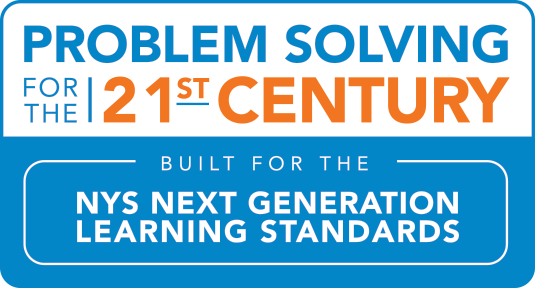 Delivered online for educators, this K–8 supplemental resource provides a broad range of performance tasks and teacher tools expressly created for New York classrooms to build problem-solving proficiency in alignment with the NYS Next Generation Learning Standards.
Our supplemental material is designed to engage students and develop their abilities to reason and communicate mathematically as well as to formulate mathematical connections. 500+ open-ended problem-solving tasks are included.
Read our NYC-specific ESSA research to learn why Exemplars is the perfect supplement to any math curriculum.
Tasks
Rich, problem-solving supplements are organized by NYS Next Generation Learning Standards.
Each standard offers 5 (or more) open-ended performance tasks that connect both the NYS content standards and Mathematical Practices. These may be used for classroom instruction, exploration, formative assessment, and summative assessment.
Our DOK 3 problems naturally elicit the Mathematical Practices and are designed to engage students and develop their abilities to reason and communicate mathematically. Spanish translations are available.
Material supports the Concrete Representational Abstract (CRA) instructional approach for teaching mathematics.
Launch images are also included to pique student curiosity.
Differentiation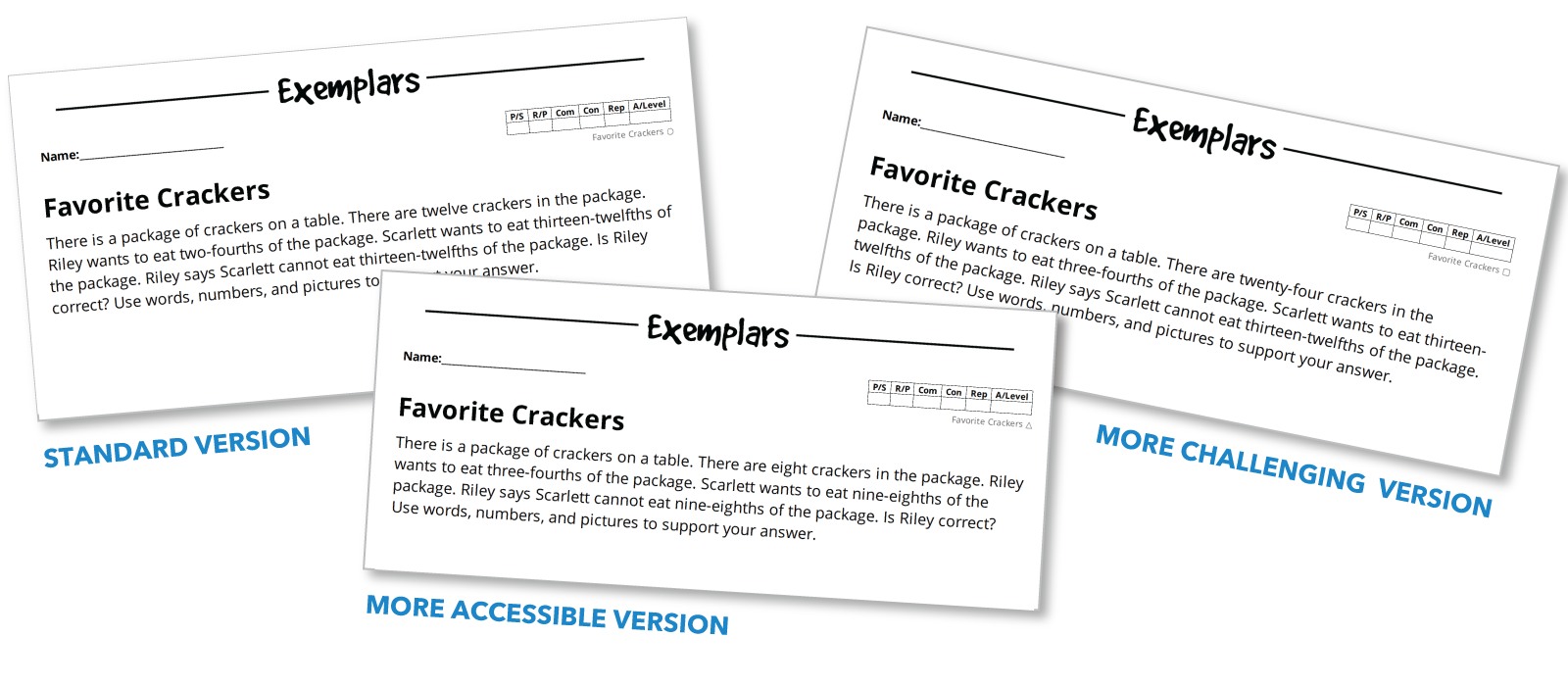 Exemplars instructional tasks are differentiated at 3 entry points, allowing easy integration in mixed-ability classrooms. These problems may also be used for formative assessment. There are 4 or more instructional tasks provided for each NYS content standard.
Planning Sheets
Preliminary Planning Sheets serve as a teacher's guide for every task.
They outline the math concepts and skills students will need to know as well as alternative strategies for solving each problem.
This resource assists with lesson preparation and assessing student work.
Rubrics
The Exemplars Standards-Based Math Rubric allows teachers to examine student work against a set of analytic criteria to determine student performance. Our rubric criteria strongly support the NCTM Process Standards. There are 4 performance levels – Novice, Apprentice, Practitioner (meets the standard), and Expert.
This assessment tool is designed to identify what is important, define what meets the standard, and distinguish between different levels of performance. It also provides teachers with guidelines for giving meaningful feedback to their students.
Student rubrics, written in kid-friendly language, are also included. These may be used to develop a child's ability to self- and peer-assess.
Anchor Papers
Student anchor papers and scoring rationales are provided at the 4 performance levels of the assessment rubric and accompany each Summative Assessment.
These tools demonstrate for teachers and students what work meets (and does not meet) the standard in accordance with the Exemplars assessment rubric and explain why.
They are also a valuable staff development resource and may be used with students as a basis for self- and peer-assessment.
One (or more) summative assessment task is provided for each content standard.
Implementation Support
To assist schools and districts new to problem solving performance-based assessment and instruction, Exemplars offers a complimentary Implementation Planning Webinar. During this session, your leadership team will gain a deeper understanding of Exemplars materials and resources as well as tips for getting started successfully. We'll also put together a schedule of periodic check-ins that make the most sense for your needs and goals.
Exemplars also offers professional development workshops designed to generate immediate and sustained results.
Material includes:
500+ engaging performance tasks to develop and assess students' critical thinking and reasoning skills for grades K–8.
Differentiated tasks at 3 points of entry for instruction, exploration, and formative assessment.
Launch images to pique student curiosity.
Spanish task translations.
Student anchor papers and scoring rationales that demonstrate for teachers and students what work meets and does not meet the standard.
Assessment rubrics that provide teachers with clear guidelines for evaluating their student's understanding and providing meaningful feedback.
Student rubrics that provide a tool for self- and peer-assessment.
Online delivery for teachers.
Google Classroom and ClassLink integration.
Access to the Exemplars Library requires a computer with one of the following Internet browsers: Internet Explorer 8+, Chrome, Safari, or Firefox.
Please contact us or call 800-450-4050 for more information about getting started with Exemplars.
The links below contain a variety of resources provided free to our many users and to those of you just learning about Exemplars. We hope you find these resources useful.