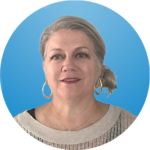 Primary Focus
Background
Suzanne Hood has been a professional mathematics educator for more than 22 years. She holds a Master's Degree in Education from the State University of West Georgia. Married to her childhood sweetheart, Suzanne was born and raised in Atlanta and currently resides in Flowery Branch, GA.
Suzanne has worked as a classroom teacher to support students as they navigate the problem-solving process in Grades K-5. As a Mathematics Instructional Coach, she began supporting teachers 12 years ago in a rural school, where she conducted a longitudinal study using Exemplars tasks. The study concluded that CoGAT scores can increase when students are taught to think about complex problems and are guided by educators who use formative assessment to inform instructional decisions. Suzanne was awarded the recognition of Master Teacher in Coaching as a result of this work.
In addition to coaching, Suzanne has worked as an Instructional Leader in Gwinnett County Schools, where she supported initiatives with professional learning such as the Math Institute, for elementary teachers working with summer school students. Gwinnett County Schools supports 60,000 students and 4,000 elementary teachers; the Math Institute provides an avenue in which teachers can experience best practices by observing, modeling, and refining their instructional decisions using Exemplars tasks.
Suzanne currently works part time as a Learning Support Specialist in Mathematics for Hall County Schools, collaborating with administrators to develop Professional Learning Plans using Exemplars tasks. Working with instructional coaches and teachers, Suzanne models lessons, provides professional learning, collects data, and facilitates the immersion of problem solving within the elementary school community.
Throughout her career, Suzanne has worked to support critical thinking and to encourage colleagues to engage students with the Standards for Mathematical Practices that facilitate a life-long understanding of mathematics. Suzanne often quotes, "I'm living the dream." Her dream is to work collectively with teachers in job-embedded professional learning using effective math instructional practices that increase student achievement, resulting in lives changed through education.
Awards and Nominations
Teacher of the Year, GA Association of Young Educators, 2010
Master Teacher in Coaching, 2010
Teacher of the Year Finalist, 2008, 2009, 2010