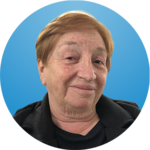 Primary Focus
Background
Karen Kurzman is the primary task creator and editor for Exemplars K-4 writing material. She has been consulting for Exemplars since 2009. Karen holds an Education Doctorate in Educational Leadership from the University of Vermont.
A consummate educator, Karen has taught primary, middle, high school and college graduate courses. She was twice-named "Teacher of the Year" in two separate schools, elementary and secondary, and achieved national certification in language arts. As a literary specialist for the Vermont Department of Education, she was involved with the creation of innovative curriculum and assessment programs, in integrating reading and writing into content areas, and in giving professional development in literacy around the state and nationally.
Karen is one of the founders and Executive Board Directors of The Vermont Writing Collaborative, a non-profit organization dedicated to helping all students and all teachers. She has worked for the Student Achievement Partners with the creation of the "In Common" prompts, Basal Alignment Program (BAP), and Research Pacs found at achievethecore.org.