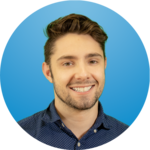 Background
Josh is lead Graphic and Multimedia Designer at Exemplars.
Josh attended the Plattsburgh State University of New York, where he studied graphic design, digital media and television production. Growing up in western Canada, Josh attended primary schools that focused on 21st-century problem solving. The Calgary education system concentrated heavily on group work and often integrated technology, piquing Josh's interest in the digital arts. When attending high school in the United States, Josh continued to pursue technology and project-based education by enrolling in the 21st Century Program (now the Saratoga Pathways Academy) in upstate New York. The program incorporated technology, problem solving and group work into core classes. Through this opportunity, Josh participated in his first internship: developing graphics for an iPhone application.
Outside of Exemplars, Josh is active in the local music scene. He produces graphics and videos for local music artists, as well as playing bass in bands based out of New York (and formerly Florida).
Toward the end of his college career, Josh participated in an internship through the Disney college program, where he drove the Walt Disney World Monorail.