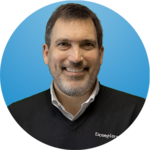 Primary Focus
Background
Jay Meadows serves as Exemplars Chief Executive Officer. He is a former middle school math and science teacher and has been working in education for three decades. Jay holds a Master of Arts in Teaching from the University of Vermont and a Masters in Mathematical Pedagogy with the Vermont Mathematics Initiative.
In addition to his dual role as CEO, Jay is one of Exemplars primary performance task writers and professional development consultants for the middle level. Leading sessions throughout the United States, he works with teachers to integrate performance tasks into their curriculum. Through Exemplars, Jay dreams of teaching a generation of kids to become effective problem solvers.
Prior to his career in education, Jay coordinated delegations from the former Soviet Union through U.S. State Department grants. He has also worked alongside a number of international non-profits and is a former Peace Corps volunteer.
In his free time, Jay loves to travel internationally, ski the mountains of Vermont and navigate the waters of Lake Champlain on his boat. He also enjoys studying neuroscience and how it impacts student learning.