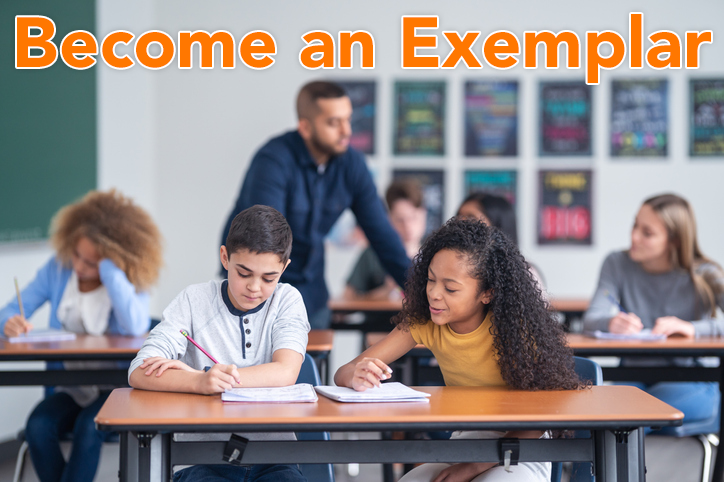 To become an Exemplars Ambassador, you will take part in our online training program and join a community of forward-thinking math educators. The course is designed to build your knowledge base of Exemplars and empower your journey to elevate math proficiency at your school.
Expectations for the Ambassador Term:

Complete the 3-part online course and receive a certificate and badge upon completion. (required).
Contribute a blog post about your use of Exemplars or classroom observations. (required)

Our team may ask for additional participation such as:

Become an Exemplars leader in your school by inviting colleagues into your classroom to see a problem-solving performance task in action.
Elevate thought leadership by presenting or taking part in virtual conferences and in-person events.
Participate in a webinar.
Participate in a case study.
Make an introduction to your district Mathematics Director.

Here's What You Get:

Free grade-level access to the Exemplars Library for the duration of the ambassador term.
Free credits worth 10 PD hours (upon completion of 3-part course)
Free virtual coaching in a cohort model.
Consideration as a future professional development consultant.
Ability to participate/submit ideas for the company's next steps.
Advance preview of new tasks or features.
Apply to be an Ambassador Today!


I feel that having the opportunity to attend the virtual Ambassador meetings supports my learning immensely. It is so helpful to be able to discuss with other educators what is going well and what could be improved upon as I implement Exemplars with my students.

I'm learning a great deal about the Problem-Solving Process and each time I have my students do an Exemplar, I learn something new! I know that I can reach out to Alaina or Brendan or anyone else at Exemplars and I will be supported. That is a great feeling.
— K. Hendricks, Wisconsin